A new repress of the Mshing & Emesis recorded ritual at a former Mormon church from 2006..

mshing & emesis "live at mormon gibbon" CDR
(TRAPDOOR TAPES TT013)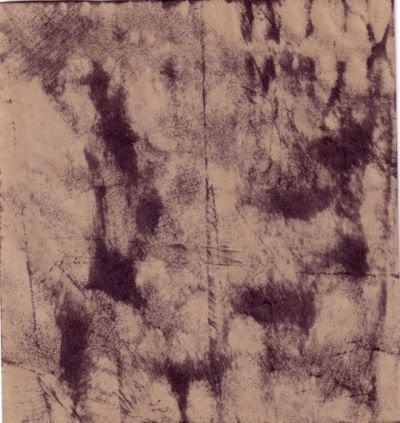 Live sets from acts that trade in pure forms of noise ultimately blossom when they?re short and snappy. Take a Prurient show, lasts roughly 20 minutes, stays with you your whole life, wether it?s through tinnitus or just the actual, devastating memory.
Mshing and Emesis represent the Australian department of the filthy and obnoxious. Their style isn?t as downright punishing as Prurient?s pins and needles approach tends to be but this 15 minute long live set takes things to the dirty side of noise like a mudslide. Filling the room with dense waves the second they get it going. Loud, obnoxious, like a snail on contactmics trawling through the mud. It?s what you imagine Noise from a down under cellar would sound like, which I sincerely hope this Mormon Gibbon joint looks like. The

crowd cheering enthusiastically after the ruckus has ended is like the confirmation: nasty noise is good noise. --JORIS HEEMSKERK
(foxydigitalis.com)
REPRESS AVAILABLE NOW, HAND NUMBERED EDITION OF 50 WITH INDIVIDUAL INK PRINTED ARTWORK & XEROX INSERT + PAINTED CDS. Sold Out.

TRAPDOORTAPES@HOTMAIL.COM